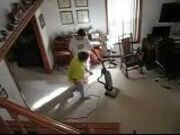 Stephen must clean the house with a vacuum but he does'nt like it.
He says: "This vacuum sucks!"
So he smashes it.
And it broke and spattered dust everywhere.
But then his father came and he got even angrier.
So Stephen ran outside, but outside there was a dog waiting to bite him!